"AI has a role when it comes to the art and the science of building communities," says Oscar Cerezales, Chief Strategy Officer, MCI. Find out more from MCI thought leaders
Artificial intelligence (AI) is rapidly empowering associations and brands with actionable insights for marketing and customer engagement. As Oscar points out, this can be leveraged to "create a community, build, engage, track [and] monetise sometimes."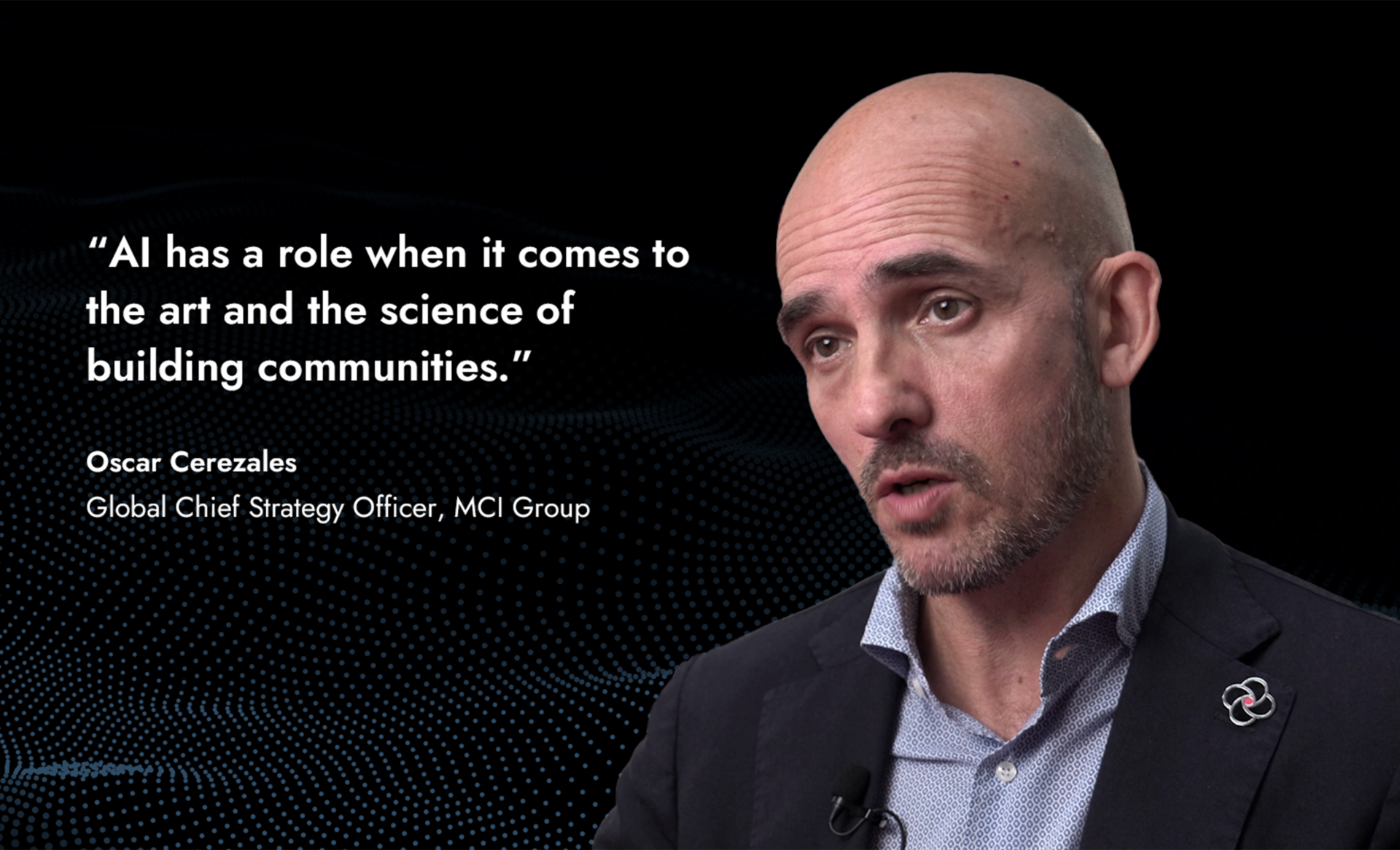 Associations, corporations and governments will still need to activate their brands, their audiences, members, users, clients or citizens; they will still need to create communities. This is where engagement happens. What AI offers, says Oscar, is the ability to shorten the product development required for the science of building a community, adding efficiencies to all operations and processes. "In a nutshell, AI brings value, but only if the business model around building communities is efficient."
Edouard Duverger, Chief Information Officer, MCI Group agrees that AI can help organisations become more efficient, streamlining processes by using automation to remove the most repetitive tasks. One example would be using AI to automate social media marketing tasks, such as posting event updates, engaging with attendees, and running social media contests. This allows teams to focus on creativity and strategic decisions.
Edouard also references AI's ability to analyse vast amounts of data. This can help planners and organisers to better understand their audiences, create more personalised experiences, measure the success of their past projects, and predict trends and patterns that can be used to improve future event marketing campaigns. "We can use AI to pull a lot of data from events and generate reports and dashboards with much more accuracy," he says.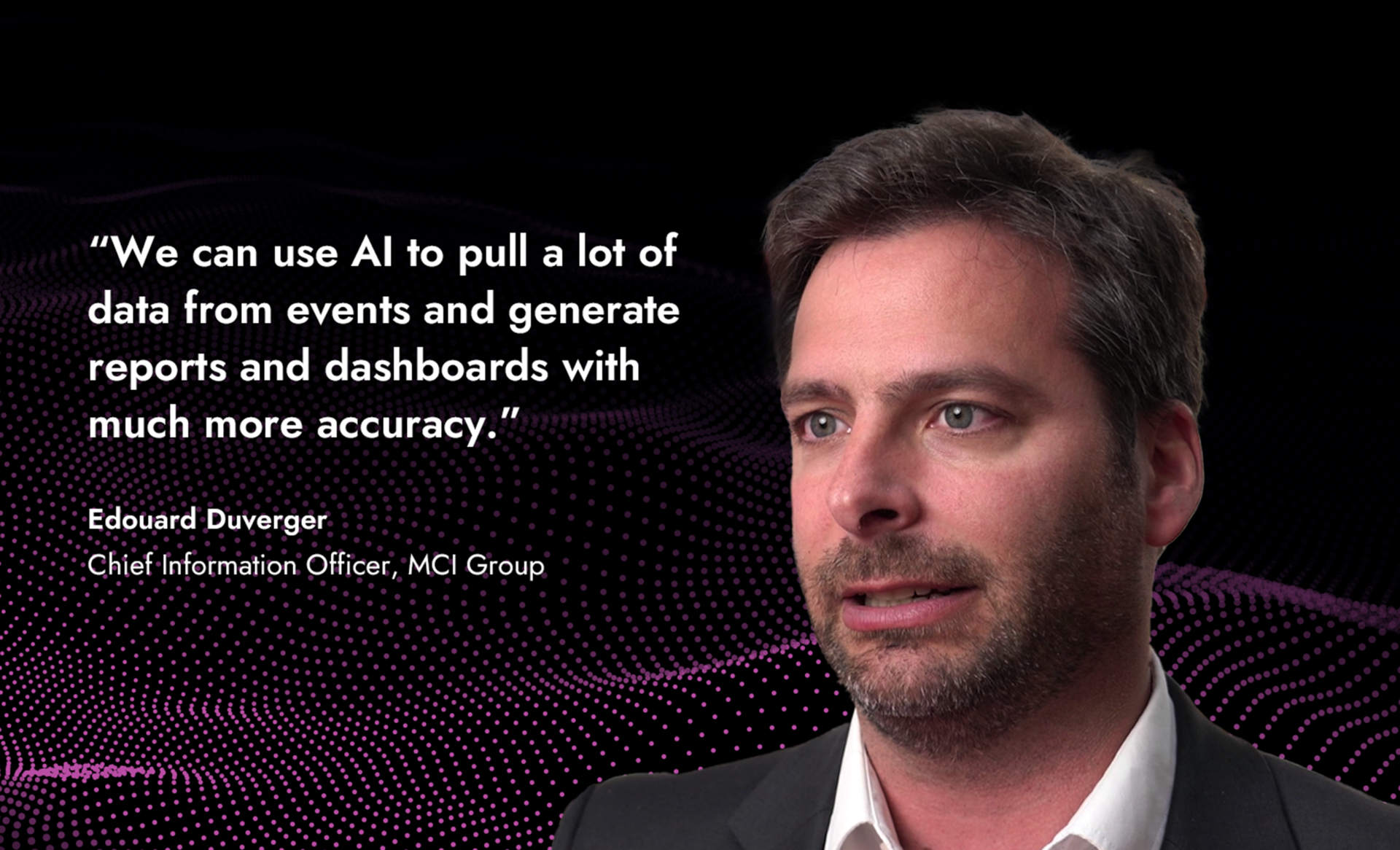 These data can help with predictive analysis and enhance the consumer's experience while providing new solutions, such as which digital marketing channels are most effective at reaching target audiences and what type of content is most likely to resonate with attendees. As much as AI is learning and improving all the time, it is also helping us learn from past projects.
Leveraging AI for marketing and engagement
Predictive AI helps with the organisation of projects – choosing the best time of year for the location based on weather, finding the best hotels for various budgets etc – while improving the experience for participants. But, notes Juliano Lissoni, Managing Director of MCI Canada, add AI to machine learning and you can "exponentially increase speed to market for new products, new services, new solutions and also the way you address communication with your members and customers".
Ajay Bhojwani, Managing Director of MCI Middle East agrees. He has noticed that for associations, AI has definitely helped improve the speed of marketing communication and the delivery of targeted solutions.
How else to use AI for marketing and engagement? AI can be used to identify potential attendees for industry-focused conferences and segment them based on their interests. In the ICT industry, for example, AI in digital marketing can be used to predict which attendees are most likely to be interested in new technologies, and then deliver targeted marketing messages to them.
Personalised content and invitations can then be created that incorporate attendee data such as past event attendance, interests and industry affiliations. This can increase open and click-through rates for event invitations, as well as the number of attendees who ultimately register for the event.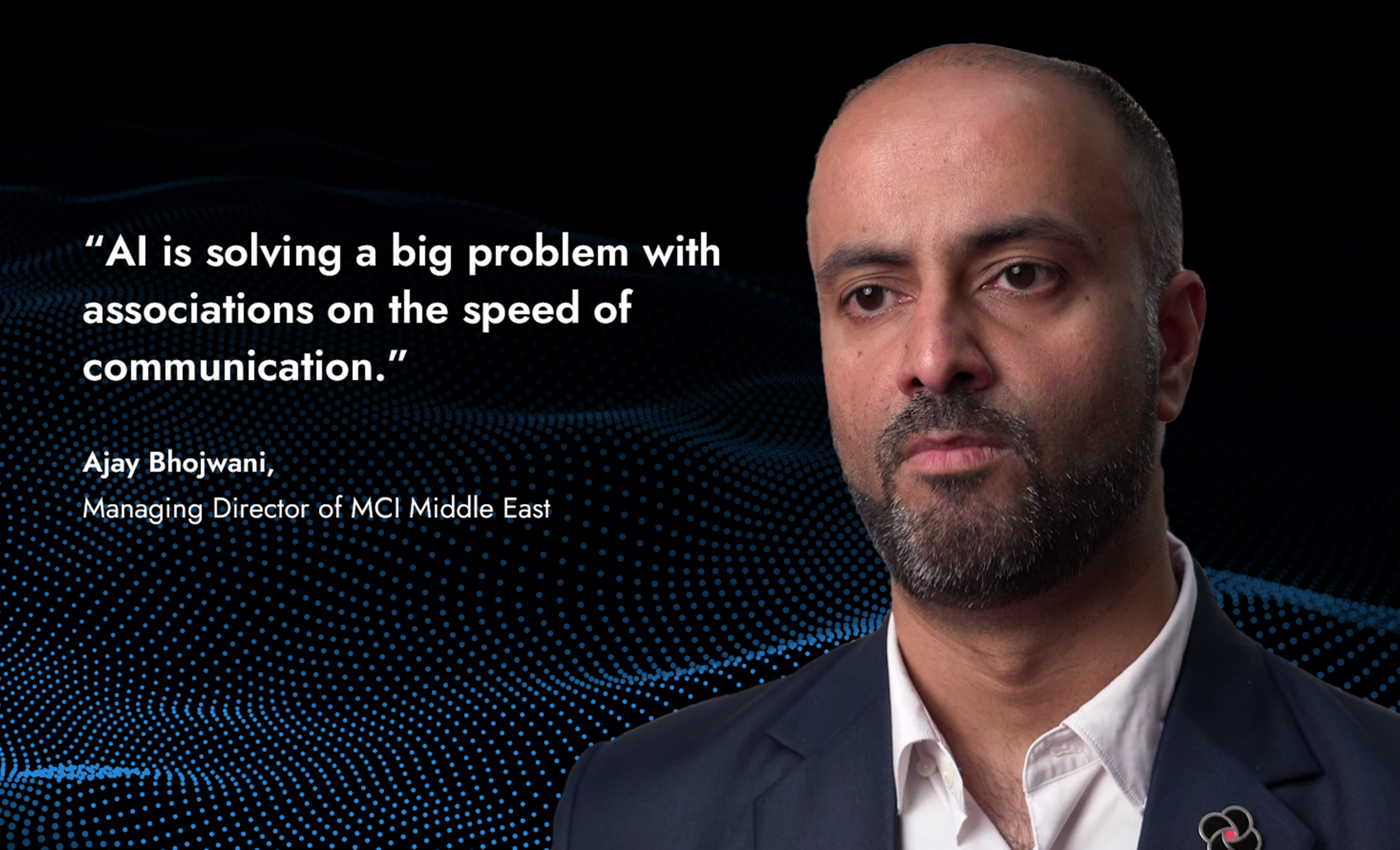 AI-powered virtual assistants can be used to guide attendees around the event venue, provide them with information about the event schedule, and help them connect with other attendees. At the same time, while tracking attendee movement around a trade show floor or exhibition, AI can engage with attendees to provide personalised recommendations for products and services.
AI-powered chatbots can also answer attendee questions, resolve issues, and provide support in real time. "The new chatbots are very conversational – you can have a discussion, you can solve issues directly with the chatbot," says Edouard. This can free up event staff to focus on other tasks, such as networking and building relationships with participants and clients.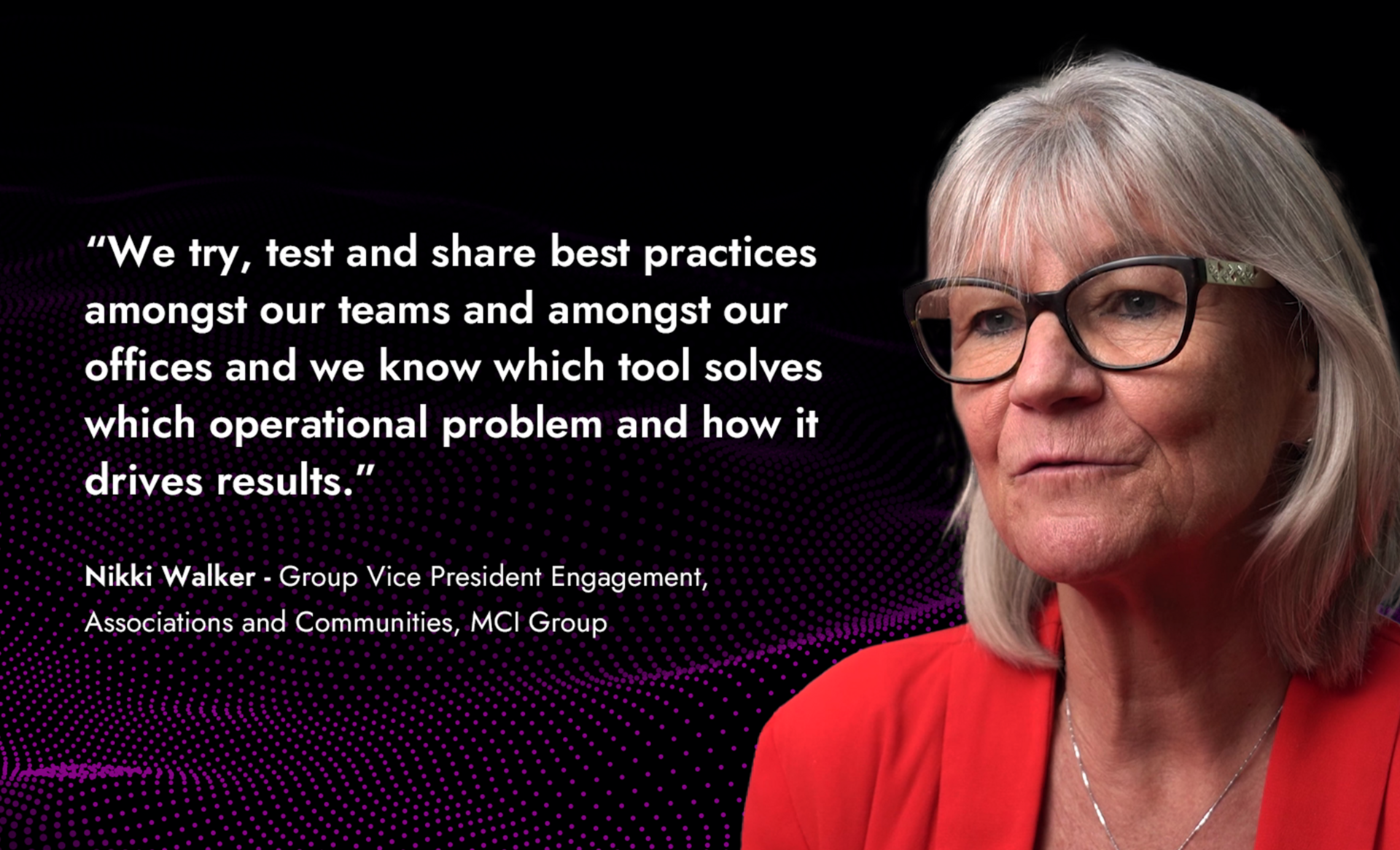 AI as a tool
Nikki Walker, MCI's Global Vice President Engagement – Associations and Communities, explains that AI, like all technology tools, is the "enabler", not the end solution itself. "There are a lot of tools out there so it's really important to know which tool you can trust and what kind of operational problems it will help you solve." She notes MCI's great advantage and how we help our association clients: "We try, test and share best practices amongst our teams and amongst our offices and we know which tool solves which operational problem and how it drives results."
The power to access so much knowledge at speed is something we've never seen before, says Avinash Chandarana, MCI Group Global Learning and Development Director. Typically, when it comes to developing our knowledge and skills, there is an interaction with tools and using AI as a tool can help us be more productive in terms of acquiring knowledge and skills, he says.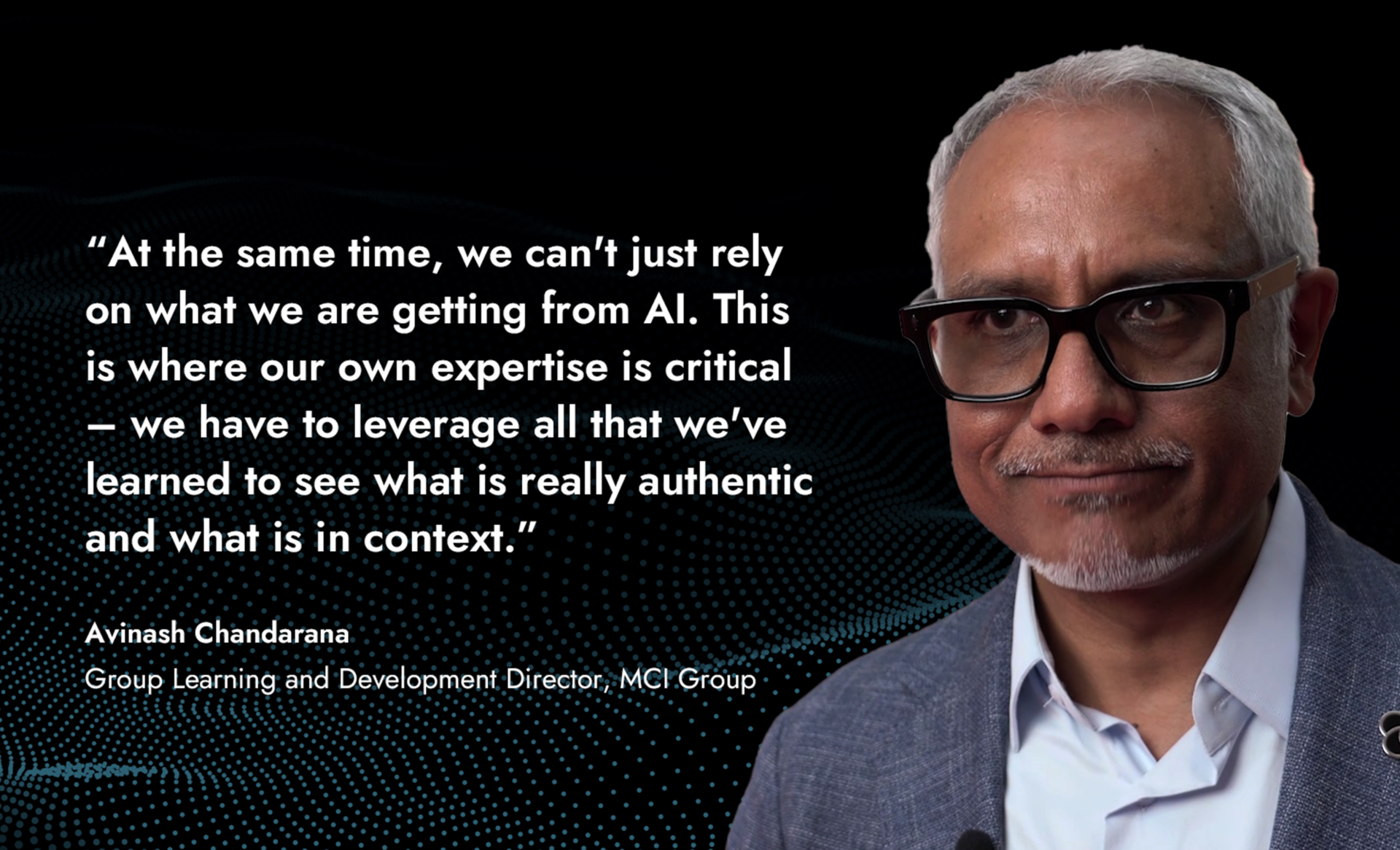 "At the same time, we can't just rely on what we are getting from AI. This is where our own expertise is critical – we have to leverage all that we've learned to see what is really authentic and what is in context. So the more we can use our own expertise, working to use AI in an augmented fashion – not to replace – it's going to bring us endless opportunities," says Avinash.
"This is not in the future; this is right now," says Juliano. There is an "opportunity to make a quantum leap in the way associations [and brands] develop their offerings and the way they organise the information they have, using AI to speed the process of turning data into insights into information and new products."
AI is a powerful tool for marketing and engagement that offers increased efficiency, improved accuracy and enhanced, personalised experiences.